You know what they say, "Life is like a box of chocolates; you never know what you're going to get." That's never been more true than in this month's roundup. We've got updates for you from across Bob, including our new 1-on-1s feature, enhancements to equity management, greater control with tasks and task lists, and more. Enjoy!
GROW, EVOLVE, AND THRIVE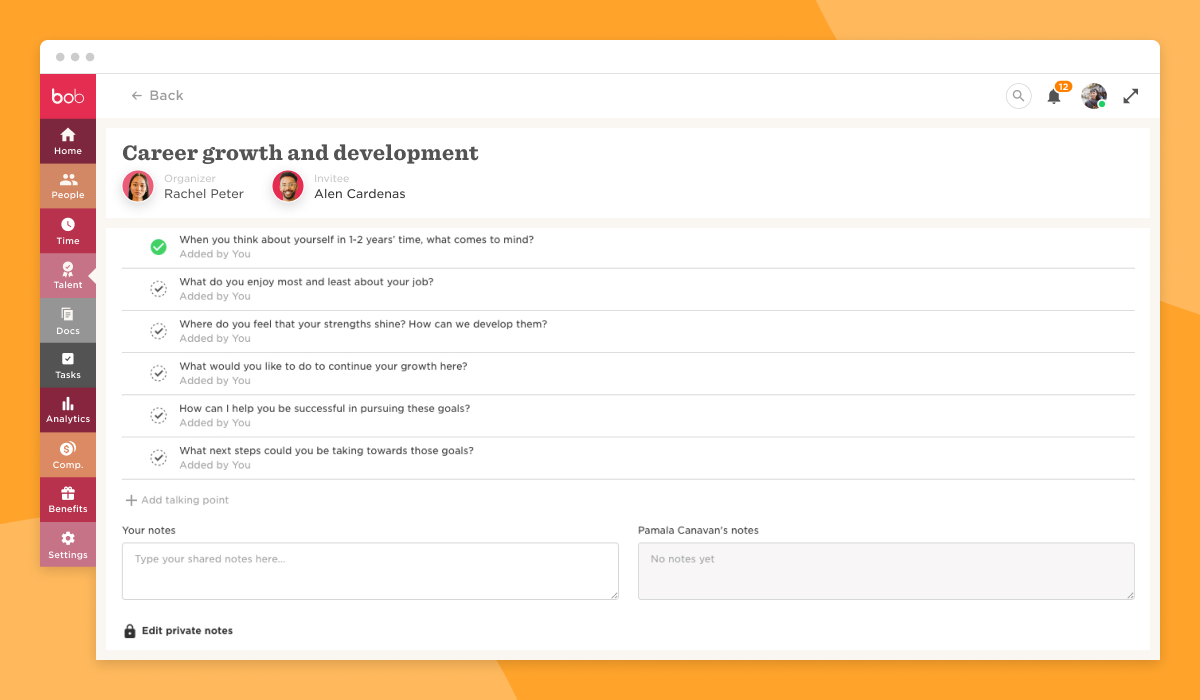 Hi, 1-on-1s. Nice to meet you.
We know how critical the manager-employee relationship is for talent retention and engagement, so we created 1-on-1s, our newest talent tool, to empower managers and their direct and indirect reports to have meaningful conversations. Managers can easily set up meetings using the pre-built company templates (which HR admins can create and edit) or by creating their own. Then, both the 1-on-1 organizer and invitee can collaborate before, during, and after the meeting by adding comments, talking points, and notes.
And, of course, you can automate 1-on-1s for special milestones, like onboarding check-ins, career growth conversations, and more via task lists.
Investing in equity management
We doubled down and made equity management easy to set up, adjust, and track on an individual and organizational level.
Status update
And another new report for your use: the eSign status report is here to help you understand the signature flow and status of each eSign document, including the template name, who it is requested for, the recipient name, status, IP address, who requested it, as well as the assigned and completion dates. From there, you can manage and schedule the report as needed.
It's just destiny
Reduce manual work and scale your Bob Docs folders with ease when triggering an eSign document request. You can now select the destination folder it will save to at the end of the signature flow. This is part of the process when triggering a request from the employee profile and people directory and when setting up new hire flows and adding a new hire.
As part of this, you can now decide who in your org can view and manage doc requests in the Roles & Permissions area.
Make tasks flow
Control when tasks are sent out after completing a flow. When someone triggers any leave or employee update flow, they can now see and select which task list is attached to the flow and when it will trigger right from the flow's last step. For example, while putting someone on leave, the person triggering the flow can choose between triggering the list around the leave date, immediately ("Now"), or on a specific date. Once the flow is approved, the task list triggered will follow the schedule as per its settings.
Do the due dates
Set a strict due date on time sensitive tasks by using the new "Enforce" option when setting up general tasks in task lists. This ensures that the difference between the anchor event and task's due date is maintained even if the task is triggered earlier than usual. Activating this kind of guideline is useful for when you need to promptly let go of a person and want to ensure that their user access across systems gets deactivated in a timely manner. As always, an automatic reminder will be sent two days before the due date.
Prorate how you want to

Thought Time Off would take some time off after last month's update? No way. Previously, you could prorate time allowance by people's percentage of FTE. Now, you have more flexibility in how to prorate allowance for part-time employees in the policy setup wizard, which is especially helpful in keeping compliant with regulations of particular places (like Germany) that define people's time off entitlement based on the number of workdays worked per week.

Unattached
Based on your organization's needs, you can now choose whether to display the option to upload a document when requesting time off right from the time off policy wizard.
Variable pay, your way
Variable Pay columns (e.g. bonus, commission, etc.) can now be used in reports, eSign employee fields, and when creating tasks in task lists.
ADP for North America
We made it so that the ADP Workforce Now Canada API also supports ADP WFN's Cross Border system. Use this integration if you have an ADP account for either ADP Canada or ADP Cross Border. So go ahead, manage payroll data easily from Bob to ADP, choosing between using the SNN or SIN number when setting up the corresponding pay cycle(s), and start syncing away.
Look out for the next Product Updates here and in your inbox. And as always, if you have any requests for things you would like to see in bob, send our Customer Experience Team a message.