We're one month down in 2022, and boy, how the time flies. Since our last update, we've been working around the clock to bring you some timely upgrades for even more flexibility and configurability. So, sit back, clock in, and take your time with this one…
Are you picking up what we're putting down? Because, honestly, we can't think of any more ways to hint that this update is filled with updates to Time off. Enjoy it!
TIME TO DO HR YOUR WAY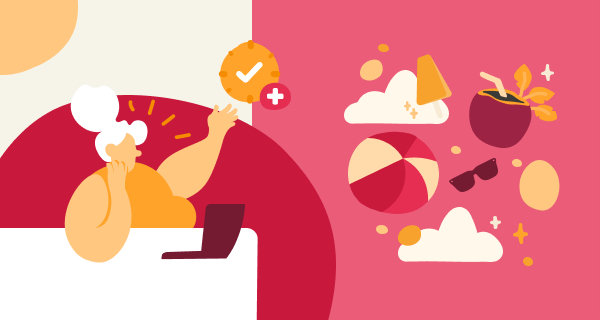 Turn the overtime hours around
You know what's awesome? Turning those overtime hours into well-deserved time off for your people so they can recharge and come back energized. Now you can! Configure this option in the policy settings to allow managers to grant special time off when their people work overtime.
Oh, the places you'll go
New year, new locations, new site setup wizard…that's how it works, right? We are happy to share a more streamlined way to set up and edit your sites. Go on, check it out.
Today's forecast? Better Time off
Speaking of time, you can now decide whether the accrual is given (like, for vacation) occurs at the beginning or end of the cycle. You can also showcase a person's forecasted balance when they request time off in the manager's request approval page and the email notification managers get regarding the request.
Break it up
We know that one of the things you appreciate about Bob is flexibility, so we've added even more. You can now opt to let your people make time off requests that are full days, part of the day, or fractions of an hour (like 2 hours and 15 minutes). Go ahead and configure the time off policy your way.
Prorate like a pro
Wait, there's more! Another way to further configure your time off policies is by choosing whether time allowance is prorated by calendar days or by working days. You can also choose if the allowance is prorated when a person is hired and/or leaves your org.
A point in time
And, so long that we are on this timely topic, you can now run your "Point in time" balance report for any given date as needed.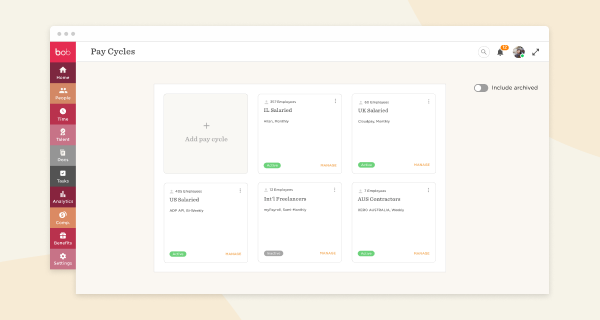 Your way to pay(roll)
Thought this was just Time off's time to shine? Nuh-uh, there's more! You can now sync payroll data from closed cycles, see which integration corresponds with each pay cycle, as well as archive, restore, and delete pay cycles permanently.
We also made it easier to activate and deactivate pay cycles and see which cycles are active or not right from the main pay cycle settings screen.
Leave a reason
When using offboarding flows, the leave or termination reason selected will now appear in a dedicated "Leave reason" field in the person's Lifecycle table, replacing the generic "Reason" field. The "Leave reason" field also appears in the Lifecycle reports for easy tracking, too.
Your KPIs
Got Your Voice? This one's for you. Use the new Your Voice KPI charts to get a better understanding of your open, received, and archived cases as well as the average time to resolution in your org.
Un-comp-romising agility
Each organization is different, and as you grow and iterate processes, you'll likely change the way you run comp events. We're glad to enable more flexibility in our comp module while maintaining the ease of use you love.
When choosing planners in the setup, you may use pre-configured groups, choose other conditions for planners and their participants, or select manually if you wish. Then, you can set up the approval hierarchy that suits your org.
Note this
Ever wanted planners and co-planners to pay attention to an important piece of information—like noting high performance—regarding a participant? Event owners may add and edit notes in the new worksheet notes column. Additionally, you may grant co-planners permissions to do this as well. Enable this feature in the event setup, then write away before and during the event.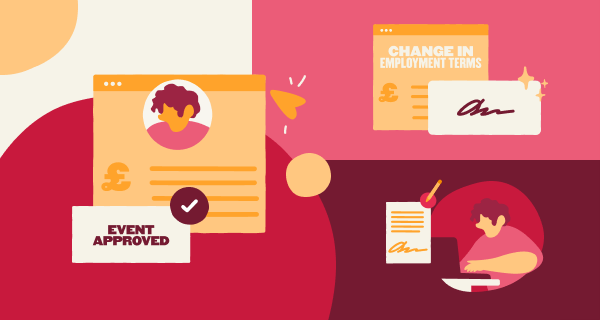 eSign + comp = your new best friend
To wrap it up, you can now leverage the combined power of Bob's eSign with the Comp module to send compensation letters once the final approver approves a comp event. Build the compensation change letters using eSign's template builder, then request signatures from the approved event.
Pro tip: If you'd like to allow managers to only share the letters after delivering the news to their direct reports, select a folder that only the managers can see as the destination folder. Then, once they've met with their direct reports, they can move the letter to the employee's folder.

What a Deel!
Our new integration with Deel, one of the leading employer of record solutions, ensures you can hire and pay independent contractors and full-time employees in over 150 countries, compliantly and in minutes. Seamlessly onboard your new joiner in just a few quick steps with our one-way sync from HiBob into Deel. Learn more about the integration here.
Full circle learning
Automatically add and keep your people on the correct learning path through our new one way integration with 360Learning. Combining collaborative tools with the power of an LMS, 360Learning enables high-growth companies to unlock learning based on collective expertise instead of top-down knowledge. Learn more about the integration here.
Aussie, Aussie, Aussie!
And, if your org uses the Xero AU integration with Payroll Hub, you can also sync your time off policies with it. This will allow you to see all approved time off requests that were created in Bob within a pay cycle, reflected right in Xero Australia.
Look out for the next Product Updates here and in your inbox. And as always, if you have any requests for things you would like to see in bob, send our Customer Experience Team a message.